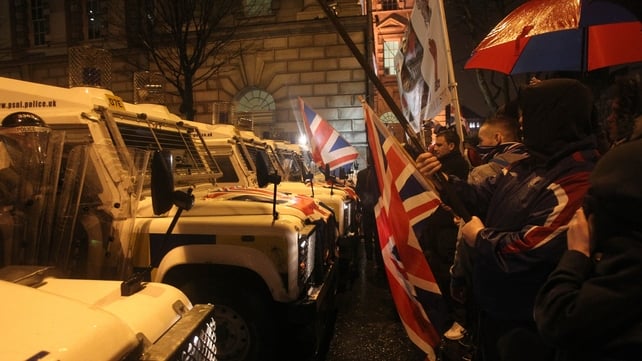 Belfast flags trouble: Plastic bullets fired at protesters
The Unionists who insist on disrupting business in Belfast are going to get their wish. I am boycotting Northern Ireland and my tours of Ireland with 25 plus people will not include the North. So until the smart people start to show some leadership, don't start crying when your hotels are not filled up and tourists are not shopping in your stores. I was planning a big trip 12 day trip covering all four provinces for 2014. Not now. Many friends who visit Ireland ask me where to go, and at the moment it is not the North. Unionists have brought this on themselves. How pathetic it is to cry about the flag not been flowing over the city Hall, but your children are not completing school, fewer are going to university and then cannot get jobs, and thereby continue to live in highly depressed unemployed areas. Unbelievable!!!! Get into the 21st Century and stop trying to live in the 17th Century.


Read more: http://www.belfasttelegraph.co.uk/news/local-national/northern-ireland/flag-protests-made-christmas-a-disaster-complain-traders-16254130.html#ixzz2HRwYAhVn
Police have fired plastic bullets during a fifth consecutive night of riots during flag protests in Belfast.
The PSNI said weapons, including hatchets and sledge hammers, were used to attack police officers and their vehicles on Newtownards Road.