National - Event Notice
Wednesday September 18 2013
06:00 PM
A people's assembly and protest at the Dail

national | bin tax/household tax | event notice

Tuesday September 10, 2013 01:48

by anon

Enough is Enough! - A PEOPLE'S ASSEMBLY outside DAIL EIREANN, 6pm SEPTEMBER 18TH
FIVE YEARS after the onset of economic crisis, the policy of bank bail-outs and austerity is a disastrous failure. Unemployment remains at crisis levels and tens of thousands of educated young people leave the country every year.
Over 180,000 people are unable to pay their mortgages; poverty and homelessness are on the rise; and workers' pay, conditions and rights are under serious attack . Vulnerable groups such as those with disabilities, mental health issues, special needs or lone parents are repeatedly attacked. Our health, education and public services are being cut to ribbons.
We need to come together to co-ordinate resistance to further cuts and austerity taxes in the forthcoming budget.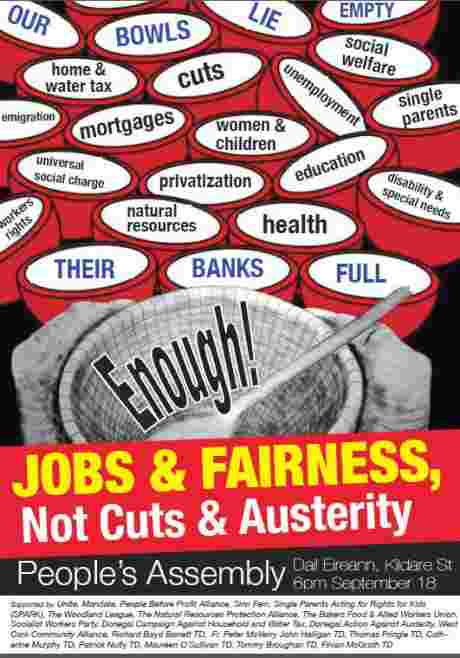 We urgently need:
• A united movement that demands an alternative - jobs, services, protection of the vulnerable and our environment and real democracy.
• A people's coalition that brings together workers, the unemployed, young people, pensioners, the disabled, struggling mortgage holder, community and environmental groups.

On the Wednesday September 18th - when the Dáil resumes after the summer break - a mass 'People's Assembly' will take place outside the gates of the Dáil.This won't be a once off demonstration. It will be the beginning of building new people's movement for change.
Don't get angry and do nothing – be there!

Supported by:
Unite, Mandate, People Before Profit Alliance, Sinn Fein, Single Parents Acting for Rights for Kids (SPARK), The Woodland League, The Natural Resources Protection Alliance, The Bakers Food & Allied Workers Union, Socialist Workers Party, Donegal Campaign Against Household and Water Tax, Donegal Action Against Austerity, West Cork Community Alliance, Cork Feminista, Ant-Racism Network, Anti-Deportation Ireland, Action on X, Feminist Open Forum, Irish Anti-War Movement.
Richard Boyd Barrett TD, Aengus O`Snodaigh TD, Fr. Peter McVerry John Halligan TD, Thomas Pringle TD, Catherine Murphy TD, Patrick Nulty TD, Maureen O'Sullivan TD, Tommy Broughan TD, Finian McGrath TD

When: 6pm, Weds 18th Sept 2013
Where:
Dail Eireann
Kildare St
Dublin 2