Belfast loyalists riot as they attempt to prevent republican march
Violent clashes between loyalists and police as republican dissidents parade to mark anniversary of internment without trial
Henry McDonald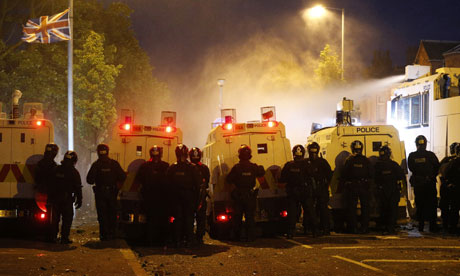 The police, who deployed dozens of vehicles, with most officers wearing riot gear, responded with water cannon. Police were also using dogs to control the crowds.
Shortly after 7pm the PSNI used riot squad officers and armoured vehicles to block the dissident republican parade at North Queen Street in the nationalist New Lodge district. It meant there were two separate stand-offs around central Belfast, one involving the loyalists and one involving the republican dissidents.
The focus of the trouble involving up to 1,000 loyalists was centred on the junction of Royal Avenue and North Street, which leads to the loyalist Shankill Road.
The violence erupted after the loyalists managed to block Royal Avenue around 6pm.
The loyalists are objecting to a republican dissidents commemorating the 42nd anniversary of internment.