Belfast Flag Violence Continues 5th Night
Petrol bombs, rocks and fireworks have been thrown at police in a fifth consecutive night of violence in Belfast. Protesters are demonstrating against the restricted use of the union flag at City Hall. Officers have deployed water canon.
Water cannon used to extinguish burning barricades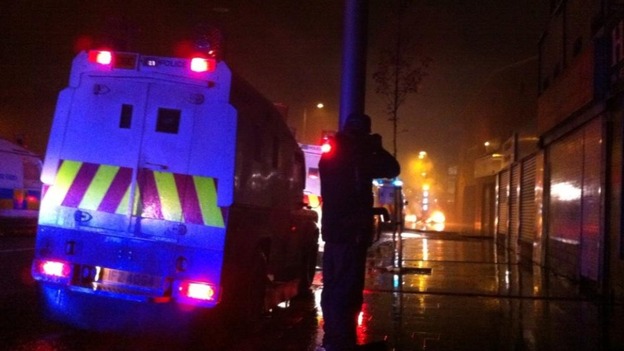 Debris left behind after police push rioters down road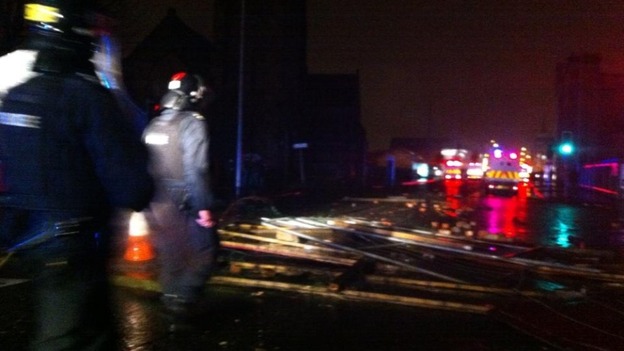 More police arrive as petrol bombs and fireworks thrown
by Richard Gaisford - Daybreak Chief Correspondent
Petrol bombs have been thrown at a line of police Land Rovers. Fireworks are screeching by too. A lot of missiles
'Barrage of missiles' against police
by Richard Gaisford - Daybreak Chief Correspondent
There has been a sustained barrage of missiles against police, some of which are big rocks. Water cannon has been used in retaliation.
It's an odd situation with loyalists on both sides of the police
Police use water cannon in Belfast
by Richard Gaisford - Daybreak Chief Correspondent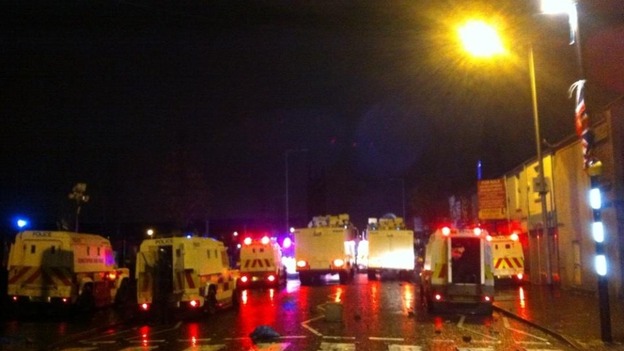 Fireworks and bottles are being thrown in east Belfast, near St. Matthews Church. Missiles appear to come from the nationalists behind the peace wall.
Police are using water cannon in bid to push the loyalists up Lower Newtownards Road away from nationalists.
'Petrol bombs and missiles' thrown in Dundonald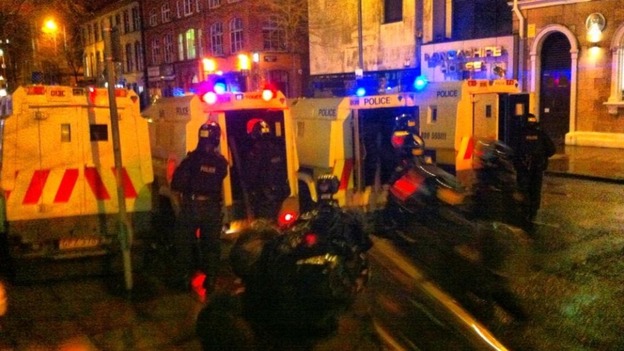 Petrol bombs and other missiles have been thrown at police officers in Dundonald, east of Belfast,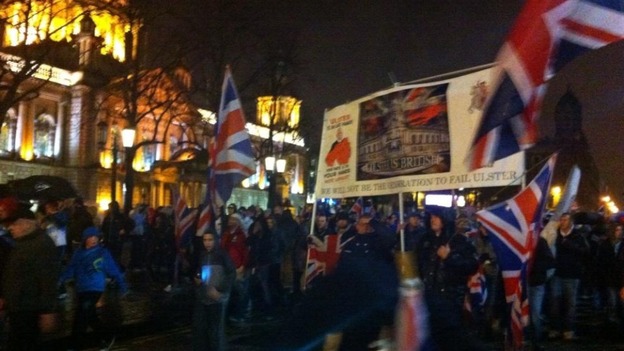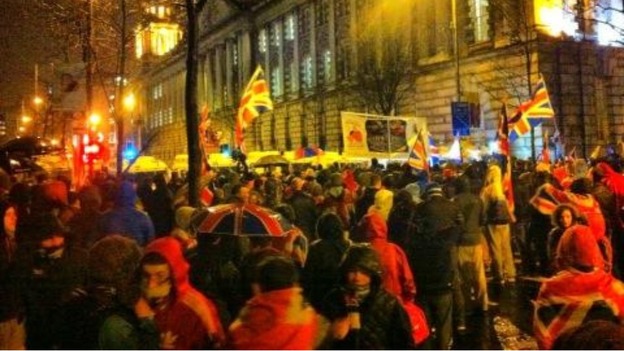 Crowd 'tries to force gates open' at Belfast City Hall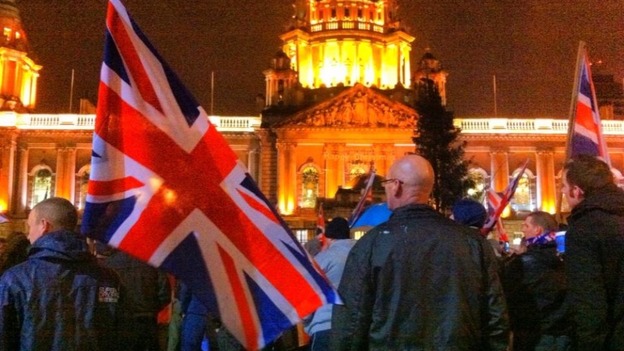 A crowd listens to a speech condemning the British Flag decision outside the Belfast City Hall. Some members attempted to force the gates open with no success.
ABOUT 3 HOURS AGO
trouble ahead of council meeting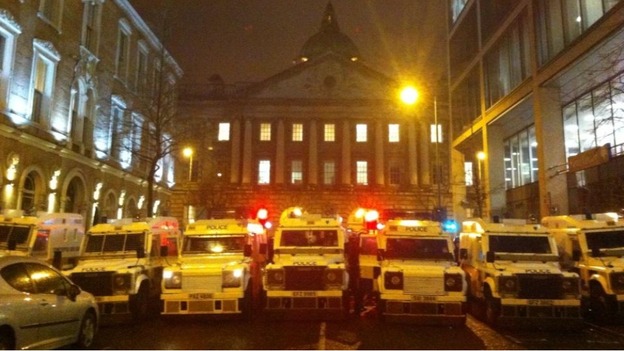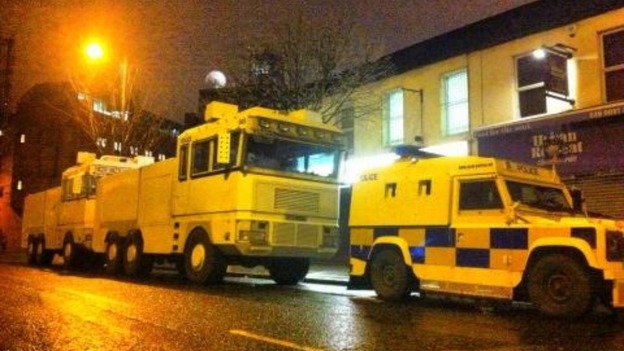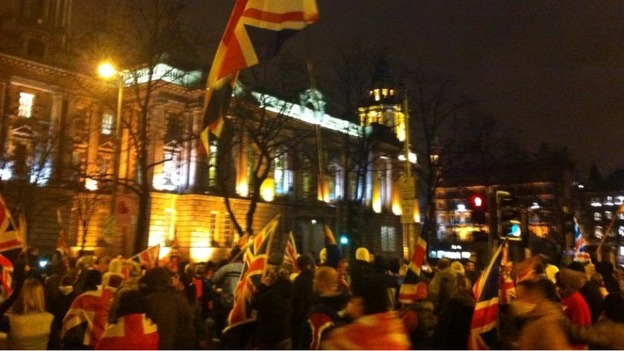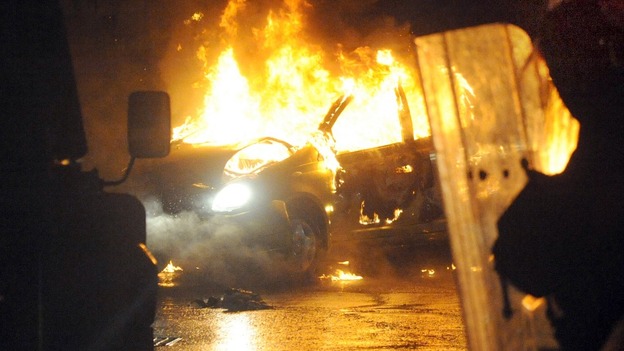 Senior members of the paramilitary Ulster Volunteer Force (UVF) are orchestrating loyalist street violence that has seen police come under attack in Belfast for the past four nights, Northern Ireland's Chief Constable has said.
While the violence has erupted at ongoing Union flag protests in the east of the city, Matt Baggott today called for an end to all such demonstrations across the region.
So far 62 police officers have been injured and 96 people arrested in violence which Mr Baggott described as "utterly unacceptable" and "being done for their own selfish motives."
Loyalists pickets have been continuing since early December in response to a decision by Belfast City Council to limit the number of days the flag flies over City Hall.
Irish politicians targeted with death threats
Several Northern Ireland politicians have received bullets or other forms of ammunition in the post in recent weeks, including:
Cross-community Alliance Party East Belfast MP Naomi Long
Alliance leader David Ford
Councillor Gerardine Mulvenna
Sinn Fein Assembly members Gerry Kelly and Alex Maskey
SDLP Assembly member Patsy McGlone
The death threats have come amid street violence that has broken out following loyalist protests over the flying of the Union flag from Belfast's city hall.
Bullet sent to Assembly member in post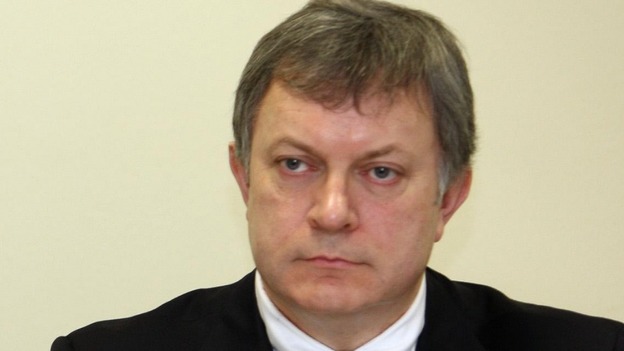 Nationalist assembly member Patsy McGlone has hit out at "faceless fascists" after he became the latest politician in Northern Ireland to receive a death threat in the post.
The senior SDLP figure confirmed he was sent a package with his name and picture that contained a bullet and sympathy card.
He paid tribute to the staff at the Royal Mail sorting office near Belfast, who intercepted the parcel, and the Police Service of Northern Ireland for their "professionalism and vigilance."