Iceland's Economy now growing faster than the U.S. and EU after arresting corrupt bankers
So Iceland decided not to follow the rest of the world by bailing out the bankers. Instead, they chose to arrest them. Now their economy is recovering faster than the EU and the United States. Hmmmm.
Remember when the United States government told the American people that immediate action was required to save the banks, and save our nation from complete collapse? An action in the form of Billions of dollars of National Debt? Yeah, we remember that! Now Trillions of dollars in National debt later, we are in the same position we were in 4 years ago, just more debt. As a matter of fact Federal Reserve Chairmen Ben Bernanke has called for yet another stimulus that will add more debt onto the mountain we already have.
At the start of the world wide 2008 economic collapse, Iceland was in worse shape than almost any other country in the world. Now they are one of the fastest growing economies in the world.
Imagine what America would be like today if we bailed out the victims of poor banking practices, while punishing the bankers who were responsible?
After watching this video tell us what you think? Was Iceland off their rocker for sending the bankers to jail, or on to something that America should have done as well?
Iceland's Economy now growing faster than the U.S. and EU after arresting corrupt bankers.
TIME...is on my side!

national | anti-capitalism | news report

Friday October 05, 2012 20:42

by Costas Avramidis

That pat on the back to our "glorious leader Enda" in Time Magazine fails to come to terms BIG TIME with the reality on the ground here in Ireland.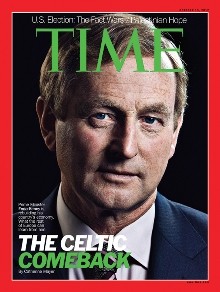 Just in case you have forgotten what has happened to all of us since Enda and Eamonn got in power:
More than 400.000 thousand people on the live register.
Thousands of people migrating to Australia and Canada and many other places each month.
Cuts to the weakest groups in our society, people with special needs, carers, basically people without voice in our society because of their small numbers.
Cuts on salaries and pay freezes.
Increases in direct and indirect taxes plus introduction of HOUSEHOLD TAX and WATER Charges coming up soon.
Demolition of the Health system.
Introduction of Students fees.
Increase in suicides
Increase in alcoholism, drugs intake and homelessness.
Soup kitchens and charities are under pressure trying to cope with the vast amount of the new homeless and the poor.

I suppose now its pretty obvious why Enda is at the cover of TIME magazine!