#MarianPrice
#freemarianprice
On the same day the Parker report was published on 2 March 1972, the United Kingdom Prime Minister stated in Parliament, that its torture techniques in British Occupied Ireland would not be used ever again in future. The Prime Minister's statement, directives expressly prohibiting the use of the techniques, whether singly or in combination, were then issued to their forces by the Government.
At a hearing before British Courts on 8 February 1977, the British Attorney-General declared that the 'five techniques' would not in any circumstances be reintroduced either collectively or individually.
The Irish Government referred to the Commission of International Human Rights in Strasbourg, cases of persons submitted to the five techniques during interrogation, at the unidentified centre or centres between 11 and 17 August 1971.
In a recent article
SPOOKY BIZARRE BRITISH SECRET EXPERIMENTS
the details of the torture of Marian Price were covered, which clearly demonstrates the British have broken their promises and undertakings to the international community with regard to their torture. They have also re-introduced internment without trial in various disguise.
The Republic of Ireland v. The United Kingdom
Before the European Court of Human Rights
18 January 1978
The British Government introduced special powers of arrest and detention without trial, which were widely known as internment without trial.The Government of the Republic of Ireland brought an application before the Commission of International Human Rights in Strasbourg (ii) that various interrogation practices--in particular the so-called 'five techniques', which included wall- standing, hooding and deprivation of sleep and food--and other practices to which suspects were subjected amounted to torture and inhuman or degrading treatment contrary to Article 3...The Commission unanimously found that the five techniques did constitute a practice of torture and that other practices amounted to inhuman and degrading treatment
UK complicity in unlawful treatment of detainees 'was institutional'
Former army legal adviser tells annual Baha Mousa memorial lecture how he was gagged by MoD after criticising officials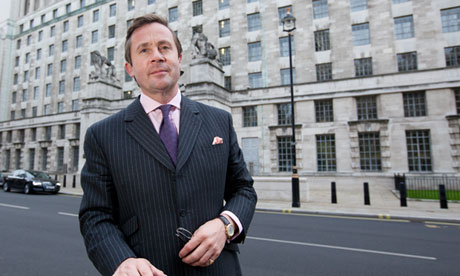 The former chief legal adviser to the army in
Iraq
has said the UK's complicity in the unlawful treatment of detainees was "institutional" and must be wiped out to prevent future abuses by British troops.
Colonel Nicholas Mercer described how he was gagged by the
Ministry of Defence
(MoD) after he criticised senior British commanders and MoD officials in the case of
Baha Mousa
, the Basra hotel worker was died in September 2003 while in the custody of British troops.
Giving the annual Baha Mousa memorial lecture, Mercer said his attempts to set up independent judicial monitoring of the treatment of detainees were blocked by the MoD. Britain's obligations under domestic and international law were routinely ignored, he added.
"Apply the rule of law and this [abuse] will all go away, it is as simple as that", Mercer said. He called on "all public servants, lawyers, professional men and women" to refuse to be part of "this shameful conduct" and end "
torture
by the state".
Mercer, who is now a Church of England vicar, recalled how in May 2003 – four months before Mousa's death – he drew up an order, known as a 'Frago' in which he referred to "a number of deaths" of individuals in the custody of British soldiers. He stated: "The detained person should be treated with humanity and dignity at all times. They should not be assaulted. They should be provided with water in all cases and food if they are detained for longer. If they need to be restrained then this should only be affected were absolutely necessary and using the minimum force required. Under no circumstances should their faces be covered as this might impair breathing. Medical assistance should be close to hand at all times."
Mercer said no action was taken by UK commanders at the permanent joint headquarters in Northwood, north-west London, in response to his order.
Mercer said that after he gave evidence to the Baha Mousa court martial (where one defendant, a corporal, pleaded guilty, while the others were acquitted for lack of available evidence), he was banned from speaking to any lawyer who was not in the army, and to journalists.
Any speeches he made had to be "checked and expurgated so a 'correct' version could be delivered". He also said he was told by the MoD that he was "not a suitable person" to give lectures on how human rights bound troops on operations abroad.